Acclimating to everyday life - plus, a visit to the American Library in Paris.
- Standout house on Av. Rapp -
- No introduction required -
I have to revise my
previous opinion
on our local Monoprix - I must have been there on an off day, because the fruit and vegetables on Tuesday (
especially
the cucumbers) looked great. Plus I've found some of my favorites like
pressed apple juice
. And T is addicted to
these little guys
. Since I hate the sugar and waste (in the UK she accepted reusable snap-lid containers filled with less-sugary yogurt), I'm thinking of weaning her off them...but not straight away. So the only thing left to find is an equivalent to her favorite (and healthy-ish)
cereal bars
- though I might try to make them myself. I've also checked out the
American Library in Paris
. It's sort of old-fashioned in a very pleasant way with a great selection of books and cultural program - plus, T loves the kids' story time. So I'm definitely considering becoming a member, even if getting there is a pain. The American Library is really close to the Eiffel Tower, which T, to my amazement, correctly identified as such. It's likely because of this scene from the
Phineas and Ferb
opening sequence
: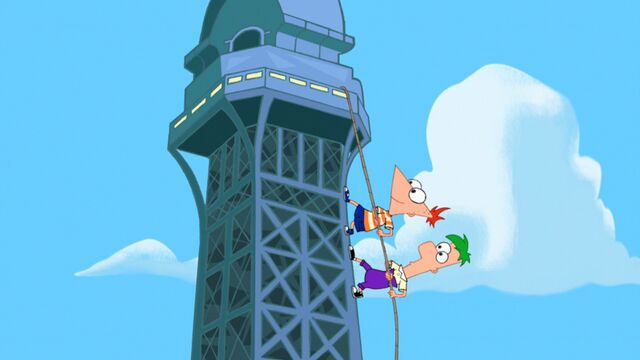 - Image from the Phineas and Ferb Wiki -
Speaking of T, she is definitely settling into her school. No more tears at drop-off, though on the way there she's been saying, in this plaintative voice, "I miss Daddy, and when you leave me at school I'll miss you too!" But she just runs off into the classroom now before I've even had a chance to say goodbye to her. And her teachers are awesome.